Arryl Kaneshiro Enters County Council Race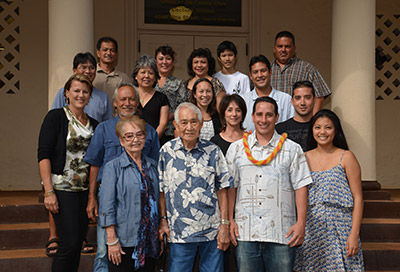 LIHU`E, Hawai`i, May 1, 2014 – Kaua`i born-and-raised Arryl Kaneshiro filed to enter the County Council race today surrounded by his immediate family. Kaneshiro's father Daryl served as a member of Kaua`i County Council for 5 terms and 1 appointment between 1998 and 2010.
"I am running for County Council because I would like to give back to our island to ensure that Kaua`i's values are perpetuated and our economy thrives for years to come," said Kaneshiro. Raised in Koloa all my life, I have been fortunate enough to grow up Kaua`i-style, surrounded by family, friends, and tight-knit community, attending Koloa School and Kaua`i High School, playing sports, hunting, and ranching. This upbringing is special to me and molded me into the adult that I am today."
Kaneshiro is a graduate of Pacific University and a certified public accountant who works at Grove Farm Company as a project specialist. Prior to joining Grove Farm, he was a senior accountant at Schwindt & Co in Portland, Oregon.
"If elected, I will bring homegrown sensibility and my business and financial acumen to the discussions and decision-making at the County Council," said Kaneshiro.
Kaneshiro is also a 4th-generation farmer, and spends his weekends working on his family's sheep ranch in Oma`o.
"As a farmer, I am familiar with the struggles and successes related to maintaining an agricultural operation that pays the bills. I would like to bring that experience to the table to help expand opportunities for farmers small and large," stated Kaneshiro."
Importantly, Kaneshiro noted that he wants to see Kaua`i families flourish and strive. He wants to work to strengthen and diversify the economy, increase jobs that pay a living wage, and enable residents to have a high quality of life.
"I believe I can represent the people of Kaua`i and Ni`ihau well because I am a regular, everyday Kaua`i resident who works hard and wants to make the best life for myself and my family. I think that's what most of us want at the end of the day," he said.
"I look forward to getting out to neighborhoods, businesses and groups around the island to talk story and collaborate with everyone to work towards a prosperous Kaua`i. If we can get together and carefully consider the issues at hand, the challenges, and the opportunities, then we can make good decisions together" said Kaneshiro. "If we all get involved and move in one direction, we can make a positive difference for Kaua`i."
Kaneshiro serves on the County of Kaua`i Cost Control Commission, Kaua`i Economic and Development Board Food and Ag Committee, Kaua`i Watershed Alliance, East Kaua`i Soil and Water Conservation, Kiwanis Club of Kaua`i, and Koloa Plantation Days Committee. He is also a graduate of Leadership Kaua`i.