About Arryl Kaneshiro
Please read below to learn more about Arryl Kaneshiro's community priorities and his personal and professional background.
COMMUNITY PRIORITIES:
Arryl will bring homegrown sensibility and his business and financial acumen to the discussions and decision-making at the County Council.
Arryl wants Kauai families to flourish and thrive. He wants to work to strengthen and diversify the economy, increase jobs that pay a living wage, and enable residents to have a high quality of life.
As a 4th-generation farmer, Arryl is familiar with the struggles and successes related to maintaining an agricultural operation that pays the bills. He would like to bring that experience to the table to help expand opportunities for farmers small and large.
PERSONAL: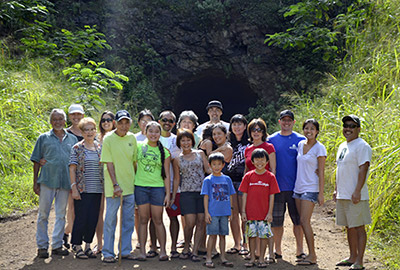 Born and raised in Koloa, Hawaii.
Married to Gwyneth Leigh Calipjo Kaneshiro and together have a beautiful daughter Everett Paisley.
Son of Jane Kaneshiro and Daryl Kaneshiro, former Kauai County Councilmember for 5 terms and 1 appointment between 1998-2010. Younger brother, Kye Kaneshiro.
Grandson of Satoshi "Sugar" and Dorothy Kaneshiro. Sugar was a member of the 442nd Regimental Combat Team and earned two purple hearts serving in World War II.
4th-generation farmer, who spends weekends working on his family's sheep farm.
Enjoys playing sports, hunting, ranching, and spending time with family, friends, and his dog, Coco.
EDUCATION:
Koloa School
Kauai High School
Pacific University, Forest Grove, OR - Magna Cum Laude
B.A. in Business Administration with a concentration in Accounting and minor in economics
Certified Public Accountant
WORK HISTORY:
Project Manager, Grove Farm Company, Inc., Lihue, HI
2007 – Present
Manage Grove Farm's agricultural, conservation, commercial, industrial, and residential properties totaling approximately 38,000 acres of land. Includes over 200 leases, 7 reservoirs, 25 acres of industrial/commercial property, 100,000 square feet of building space, and 2 commercial projects totaling 17 acres.
Coordinate the Company's leases, licenses, and other property management functions, including, but not limited to, renegotiating leases/licenses, maintaining an inventory of the leases/licenses, addressing tenant concerns, oversight of security, landscaping, tenant billing, and account receivable collections.
Coordinate maintenance of roads, water conveyance systems, and reservoirs.
Prepare annual and five-year budget for revenues, lease expirations, repairs and maintenance, and capital expenditures.
Responsible for monthly financial and operational reporting.
Senior Accountant, Schwindt & Co., Portland, OR
2003 – 2007
Manage and train new staff on performing audits, firm procedures, and conducting themselves in the field.
Perform audits, reviews, and compilations of Homeowners Associations and Mortgage Brokers.
Managed the reserve study department, responsible for training staff, and preparing reserve studies for a variety of homeowner association's including conversion projects, existing associations, and new construction.
Preparation of monthly compilations for two McDonald chains
Preparation of personal property, individual, and corporate tax returns
ORGANIZATIONS:
East Kauai Soil and Water Conservation – Director
Kauai Economic Development Board Food & Agriculture Committee - Member
Kauai Watershed Alliance – Member
Kiwanis of Kauai – Board Member
Koloa Plantation Days – Board Member & Parade Coordinator
Leadership Kauai – 2011 Graduate